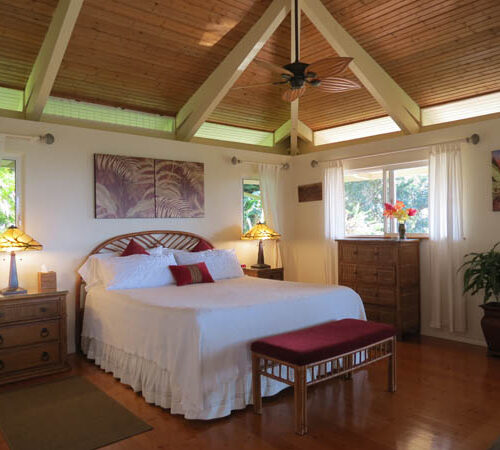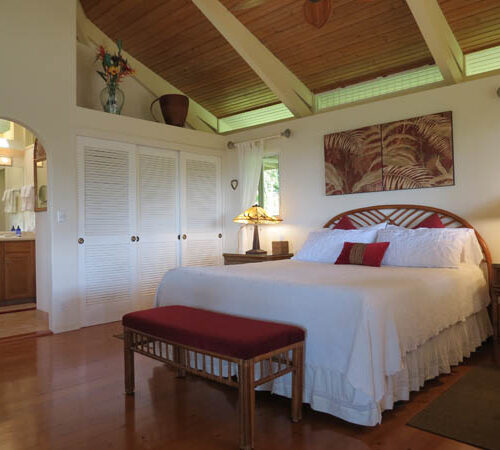 High thread count, organic cotton linens embrace you in ultimate comfort in our heavenly King-size bed, ensuring
that every night holds the promise of a great night's sleep…sweet dreams included.
As a bonus, you can lift your head and see panoramic views of the ocean and West Maui mountains
in this popular Maui vacation rental.
"Everything in the cottage is first class and it includes everything you would need. We enjoyed coming home from a day of exploring and relaxing by putting on some island music and using the gas grill to cook steaks and/or fish for dinner. My wife and I agree that the king size bed was the most comfortable bed we have ever slept in."
Julie & Steve
West Allis, WI
"The experience at the Hookipa Bayview Cottage was very relaxing. The accomodations were easy to set up with Barbara and no surprises along the way. The cottage was spotless when we arrived. The home had everything we needed for a comfortable stay. In my view, it was superior to a hotel. The stay was perfect and I'd return to stay again if I ever make it back to Maui. Mahalo."
Jane & Arthur
Benton, NB
"Barbara & Hank, We thoroughly enjoyed our stay on Maui and especially in your absolutely "perfect" cottage, nestled in the hills and away from the crowds in the touristy areas of the island. It was exactly what we had hoped for -peaceful retreat that allowed us some time to read and relax and decide how much and what we wanted to see on the rest of the island. When we returned to the cottage after a day of exploring, it was so calming to drive up the driveway and pull up next to your comfortable cottage. We both marvel at how well designed and built the cottage is –it shows how much you value the comfort of your visitors. Again, thanks for everything you did and offered to do. We would definitely recommend your cottage to our friends and hope to return some day soon."
Rob & Pat
Cedar Rapids, Iowa
A heavenly sleep awaits you at Hookipa Bayview Cottage. The finest Maui Lodging for a honeymoon or private retreat.