A LUXURIOUS, ROMANTIC AND INTIMATE EXPERIENCE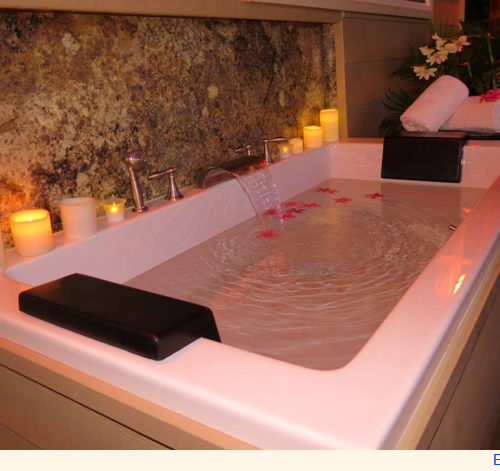 DEEP SOAKING TUB FOR 2
Relax outdoors on the covered lanai (deck) surrounded by nature in your PRIVATE, extra deep, extra long and extra wide, super comfortable, luxurious soaking tub designed for 2.
Enjoy the view overlooking the peaceful valley below and out to the ocean and coastline . . . the sunsets . . . the moon and stars . . . the city lights . . . the lush tropical landscaping . . . the twinkling candles and the romantic ambiance.
Relax and unwind after your fun day of Maui Adventures and activities. Bathe by twinkling candlelight in your private, relaxing oasis designed to provide a soothing, sensual experience.
NO CHEMICALS just fresh water each time. No shared, second-hand water or smelly chemicals that can affect your skin or senses.
Relax and soak your cares away. Soaking relaxes and invigorates your body and mind. It improves circulation and soothes tired muscles and joints.
Deluxe Amenities include:
Strategically placed comfortable, waterproof foam pillows
Lumbar support
Luxurious Waterfall faucet and handheld shower
Warm rainbow glass lights create a relaxing romantic ambiance
Battery operated twinkling candles
Plenty of towels
Bath salts by Allii Kula Lavender Farm
"It was love at 1st soak."
"The soaking tub was a memorable experience … one of the highlights of our Maui vacation."
18 Days in Paradise
The ultimate compliment one can give to a vacation property is when you return to stay and stay for an extended period of time. We 1st rented Hank & Barbara's Hookipa Bayview cottage in 2016 and loved it so much, we returned for an 18 day vacation in 2017. Kathy and I have fallen in love with this heavenly tropical paradise, beginning with the owners (especially Barbara) who do everything possible to ensure an awesome experience. The cottage itself is about 200 yards off the road on a private drive. Totally secluded. Although the owners live approximately 50 yards away, you can barely see their home due the beautiful and exquisitely maintained, and dense trees, flowers and plants (banana trees). You have all the privacy you could possibly want and would not even see the owners unless you made a point to do so (which you must do as they are great people). The interior is beautifully maintained, with every detail covered. Wi-fi, tv, which we only turned on once for a few minutes to see if it worked, then immediately turned off. I cannot describe the bathroom amenities (tub and shower) as we took every shower outside (two times a day) except for the days Kathy utilized the lanai bath for long night soaks. Unbelievable how the stars at night seem to be so close to you as there is no light pollution. Even raining, you still enjoy the shower, much like a hot tub during the snow. Can you tell this is one of our favorites? Sitting on the lanai at night is the ultimate way to unwind after a day at the beach or hiking. We usually did not get home till dark, took a long shower and to bed by 9pm. Once the sun goes down it is quite cool and pleasant sleeping (no need for air conditioning (this is coming from two folks from Texas).
We love to hike the waterfalls along the Hana highway, the Waihee Ridge Trail, Waihou forest trail hike by Makawao, jump of the cliffs at the Venus Pool, the Red Beach at Hana, rappelling (by the Hana highway), went to a Journey concert, Warren and Annabelle magic show and dinner in Lahaina, Red Beach in Hana, Big Beach, Wedding Beach. Eating at Mamas Fish House is our special night out on vacation, Paia Fish Market, Da Kitchen Cafe, Halaiimaile General Store, the distillery tour, the glass factory tour, snorkeling and whale watching. You don't need much more than a backpack or small suitcase as the washer and dryer are quite handy! We will definitely try to make it back in 2018! Aloha!
Michael and Kathy 
Colleyville, Texas
A Luxurious, Romantic and Intimate Experience.  The Maui Cottage Soaking Tub is a Perfect Way to Relax on Vacation.