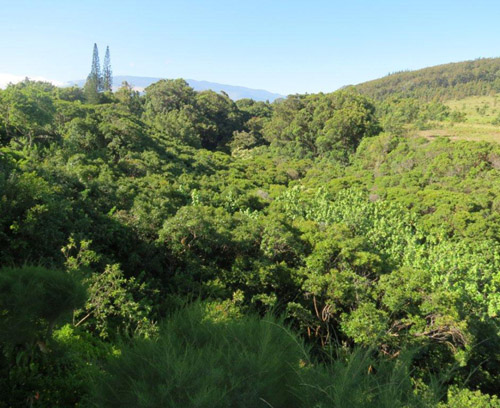 Large, wild, peaceful jungle gorge with stream and waterfall, trickling down from the majestic Haleakala mountain, flows through the valley below Hookipa Bayview Cottage. A relaxing ambiance with songbirds and doves gliding over the glistening treetops shimmering in the breeze.
This idyllic natural setting is Hookipa Bayview Cottage's front and side yard with 100's of acres of open land and incredible, memorable panoramic ocean, coastline, sunset views.
Some of the trees flourishing in this verdant valley are: Christmas Berry, Giant old Guava, Milo (prized by woodcarvers) and Kukui Nut (used by Hawaiians as candles before electricity).
The lush tropical splendor of Hana is about 2 hours away on the famous winding "Road to Hana". But the feeling is here. Yet only 12 minutes to Makawao or Paia and 3 minutes to Haiku town, all with great restaurants and shops.
In the tropical rainforest, the waterfall occurs when it rains way up on Haleakala mountain above us, creating a calming, tranquil relaxing ambiance to enjoy by day or lull you to sleep at night.
We hope that during your visit to Hookipa Bayview Cottage, you will be able to experience this awesomely, soothing sound and be mesmerized by the sounds of flowing water nature can provide.
It was a great start in our honeymoon

Hank and Barbara have a beautiful place with a wonderful garden. A lot of flowers around and in the house. We really enjoyed our stay there. It was a silent place where you can relax with a beautiful view. It is a good place to start trips to every destination on Maui. We had a great time there and we would love to come back one day.

Verena & Frank
Germany
Maui Cottage Exit – Hookipa Bayview – Tropical Lush Trees