A PEACEFUL HAMMOCK IN THE COTTAGE GARDEN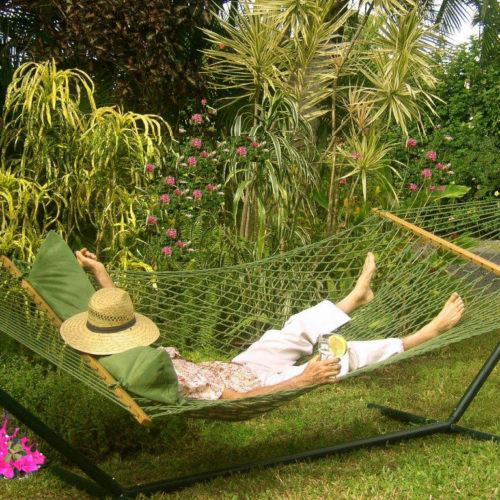 Come relax with us and leave your worries behind.
Relaxing and peaceful haven on Maui

My partner and I recently stayed at the lovely Hookipa Bayview Cottage. The location is right in Haiku and is very central on the island and not far (but plenty far enough) from the airport. The cottage served as a great jumping off point for our many adventures the first part of our stay on Maui. It's right near Upcountry (we fell in love with Makawao) and is well on the way to the Haleakala Crater, which is where we spent a good portion of our trip. It's also a great place to start your drive to Hana, which is a must. And even West Maui wasn't too far away, as we spent several days on that part of the island, too. As for the place itself, its very clean and homey and is surrounded by lush and peaceful gardens. We particularly loved dining on the lanai every night, looking out over the bay and the beautiful meadow right next to the cottage. You can't imagine a more peaceful setting. The bed and furniture was very comfortable and we were able to get the much needed rest and relaxation that we were seeking. Barbara was a gracious host and made us feel very welcome, with plenty of instructions for the house, a lovely arrival gift basket, and an in-person visit and follow-up check-in phone call to make sure all was well. Barbara and Hank live in the main house. There is plenty of privacy and they are very courteous neighbors. We were very sad to leave and are already planning for our next visit.

Steve
San Francisco, CA
Ho'okipa Bayview Cottage Hammock  – Peaceful Garden Paradise. Quiet and Comfortable, the Garden is a Little Tropical Heaven.