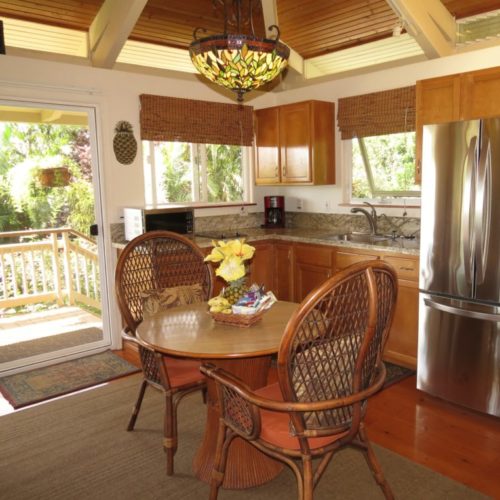 Compact and convenient provided for easy food preparation with granite counter tops, Stainless Steel refrigerator, built-in glass stovetop, microwave, counter top oven, water filtration system, along with great kitchen window views. There's a nice Webber gas BBQ outside on the lanai for your grilling enjoyment.
Peace and quiet with everything close by
"Barbara and Hank Kline have an absolutely wonderful vacation/honeymoon cottage tucked away in Haiku, Maui, just 15 minutes from the perfectly sized small town of Paia. The cottage is situated on 2 acres of their gorgeously self-landscaped property, which you will with their main residence, but the house and cottage are invisible to each other due to the ample landscaping. Spend some time with Hank in his impressive vegetable garden, or talk to them about the myriad of flowers and foliage decorating their property.
The cottage is newly constructed and perfectly sized for two. There are so many full length windows that no matter which way your turn, its nearly impossible not to see the hillside of Haleakala, the ocean, or the beautiful landscaping. The Kline's provide everything you could ever need, such as pots & pans, washer & dryer, beach chairs, beach mats, cookware, plates, silverware, king size bed, plush bath and beach towels, the list could go on and on. If you needed it, they had it! (they also encourage you to ask them if something you need happens to not already be in the cottage.) Hank and Barbara have stocked their magazine rack with local restaurant menus from the nearby towns of Haiku and Paia.
The cottage is very quiet, we were never woken up by any type of outside noise, even sleeping with the windows open. The cottage is situated 5 minutes from the Hana Highway, where you're already 10 miles into the road to Hana (past the boring part). The cottage is located such that you never have to drive very far to get to great local beaches or restaurants (10 min tops), and its under a 40 minute drive to South Maui and about an hour to West Maui.
We found the cottage to fit our needs perfectly. Barbara and Hank are super friendly and have done a tremendous job providing everything you could want for a perfect Maui getaway nestled away from the hustle and bustle of Maui tourists. We would recommend this cottage to anyone and we look forward to a return trip!!"
Brian & Megan
Silver Springs, Md,
Prepare your own meals with our compact and convenient Maui kitchen