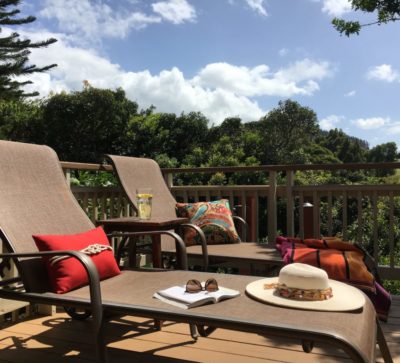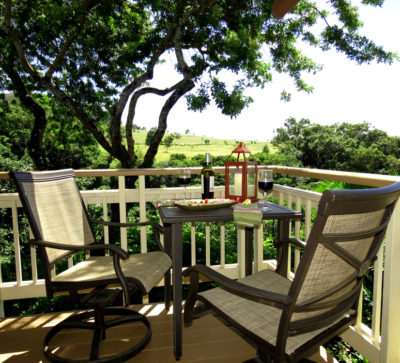 Dining Alfresco, basking in the sun or just relaxing on the private lanai of this Maui Cottage rental, surrounded
by nature will be so memorable.
Just glance up now and then to enjoy the stunningly, gorgeous view of shimmering Hookipa Bay and the Maui
coastline or just watch the swaying treetops in the jungle gorge beside Hookipa Bayview Cottage.
Don't be surprised if one of Maui's best singers . . . the melodic, laughing thrush pays a visit to sing you a song.
Serene Retreat

"My husband and I stayed in three areas while on Maui: a condo on the beach, a resort and Barbara and Hank's cottage. This is the perfect setting for those who desire a peaceful retreat. Rainbows, lush tropical gardens, a view of the ocean and all varieties of birds. One small green bird perched on my husband for an extended visit one morning while we were having our coffee – that's how friendly this spot is."

Pam
Illinois

"We've stayed with Hank and Barbara three times, and each time we are amazed and very grateful for the friendly but non-intrusive hospitality they offer. The cottage itself is meticulously maintained by them, and the view and quiet comfort are outstanding, definitely our favorite place to stay on Maui."

Fidalgo Dave
Anacortes, WA

We spent two weeks and it was the perfect getaway. The cottage is in a lovely setting with a view of the bay and pastureland. It was nice being able to come back to the cottage after busy days of beach going and sightseeing and enjoy cocktails on the deck, listen to the birds, and watch the sunset. The outdoor shower and tub on the deck were frequently used. Barbara and Hank have thought of everything! We hope to return!

Beth & Tracy
Eugene, Or
Native songbirds, waterfalls and the sounds of the tropics are all a part of the experience on the Maui Cottage at Hookipa Bayview Lanai.