Deluxe Very Private Outdoor Showers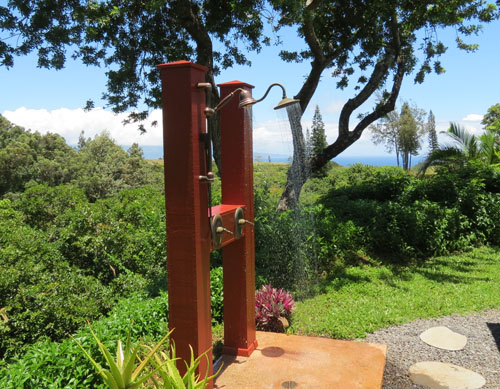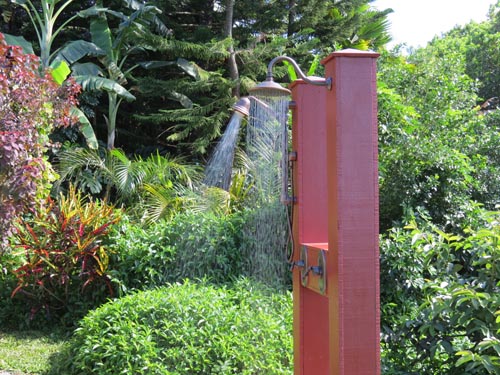 VERY PRIVATE
SIDE-BY-SIDE
Luxurious soft Rain Shower and adjustable height, multi-stream shower, (removes for handheld) are both hot and cold. Be one with nature in this very private and secluded, idyllic Garden of Eden setting. Shower together in the warm Maui sunshine or under the stars at night while enjoying the clouds floating by in the moonlight. Showers are only a few steps to the private sundeck.
These showers are an additional amenity for your pleasure. Our indoor bathroom amenities can be viewed by clicking here.
PERFECT BEAUTIFUL AMAZING LOCATION FOR COUPLES This is the perfect rental property for just the two of us with everything you'll will need for a convenient stay. There is a large refrigerator and freezer to stock whatever you need from a local grocery just 5 minutes away. I've cooked almost every night on the two burner stove. The kitchen appliance are there and Barbara & Hank thought of everything you' ll need!! Every morning we had breakfast out on the lanai (balcony) overlooking the amazing view of the valley and ocean, see photo in description listing. It's accurate. Very peaceful and soooo relaxing. Great way to start the day. There is Wifi for us to book activities online. We went scuba diving, horseback riding after doing the Sunrise at Haleakala (recommended). Hana road tour. The owners Barbara & Hank are wonderful neighbor. You won't see them unless you need them. This is important because of the outdoor showers.
Tip:
Take a outdoor shower the first thing you do when you arrive. Once you do, you'll never take a shower indoors again. Trust me. It's soo amazing. The showers are located where it is secluded and private. There is shampoo there for you. Let's not forget the hot tub! It's hard for us to say anything negative about our two week stay here. Thank you Barbara & Hank for a wonderful vacation. You'll hear from us again when we return again.
Frank and Ling
Henrico, VA
"Romantic, heavenly . . .
a memorable showering
experience"

"After a busy day enjoying
Maui's endless activities
Your showers helped us
Feel sooooo relaxed"

"My boyfriend and I
LOVED
the cottage's outdoor showers"
Your Maui Vacation Experience Upgrade! These Outdoor Showers at the Cottage are one of the Many Fine Amenities That Pampers You!